Google™ Search
November 4, 2020
A 1.15 production release candidate is available, including a fix to work with the new PDB fetch locations (see the release notes). Please try it and report any problems.
November 13, 2019
Chimera production release 1.14 is now available. See the release notes for what's new.
September 21, 2019
A production release candidate (version 1.14) is available; please try it and report any problems. See the release notes for what's new.
(Previous news...)

UCSF Chimera is a program for the interactive visualization and analysis of molecular structures and related data, including density maps, trajectories, and sequence alignments. High-quality images and animations can be generated. Chimera includes complete documentation and is free of charge for academic, government, nonprofit, and personal use. Commercial users, please see Chimera commercial licensing.
Chimera development was supported by the National Institutes of Health (P41-GM103311).
UCSF ChimeraX is the next-generation molecular visualization program from the RBVI, following UCSF Chimera. We encourage Chimera users to try ChimeraX for much better performance with large structures, as well as other major advantages. ChimeraX replaces a significant subset of Chimera features, includes several completely new features, and is under active development. Users may certainly choose to use both programs, and it is fine to have both installed.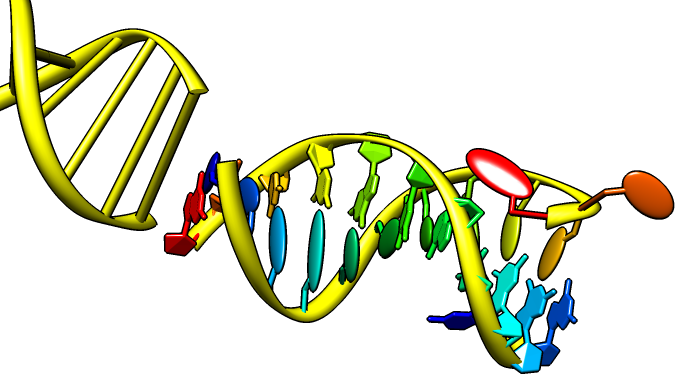 Special representations of DNA and RNA can be displayed with the Nucleotides tool or the command nucleotides. Different levels of abstraction are available. The figure shows a ribbon backbone combined with the following sidechain (sugar/base) options:
ladder rungs
filled-ring atomic representations
"lollipops" in which bases are shown as ellipsoids and sugars as tubes
Bases can also be displayed as boxes or elliptical tubes, with or without bumps to indicate orientation. The colors of the special representations will update automatically to match the corresponding atoms.
(More features...)
---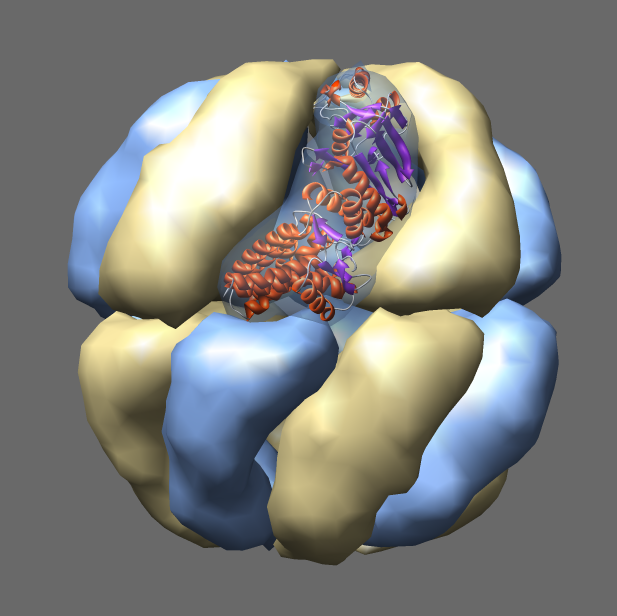 Thermosomes are hollow balls inside which proteins are folded. They are found in the cytosol of eukaryotes and in archaea. Eukaryotic thermosomes have 8 different protein subunits, while archaeal ones are composed of one, two or three different proteins. The one shown from Thermoplasma acidophilum has two distinct proteins colored blue and yellow, each present in 8 copies. The two proteins have 60% sequence identity and are very similar in structure. One monomer is shown as a ribbon. Actin and tubulin are folded by eukaryotic thermosomes.
Protein Data Bank model 1a6d.
(More samples...)
---
About RBVI | Projects | People | Publications | Resources | Visit Us
Copyright 2018 Regents of the University of California. All rights reserved.