UCSF Chimera is a program for the interactive visualization and analysis of molecular structures and related data, including density maps, trajectories, and sequence alignments. It is available free of charge for noncommercial use. Commercial users, please see Chimera commercial licensing.
We encourage Chimera users to try ChimeraX for much better performance with large structures, as well as other major advantages and completely new features. ChimeraX includes a significant subset of Chimera features (with more to come, see the missing features list) and is under active development. Users may choose to use both programs, and it is fine to have both installed.
Chimera is no longer under active development, and is only updated for critical maintenance. Chimera development was supported by a grant from the National Institutes of Health (P41-GM103311) that ended in 2018.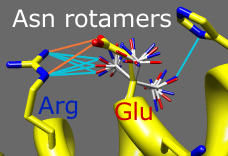 Amino acid sidechains adopt different conformational states, or rotamers. Rotamers from the Dunbrack backbone-dependent library or the Richardson "penultimate" library can be viewed, evaluated, and incorporated into structures with the Rotamers tool. A residue can be changed into a different conformation of the same type of amino acid or mutated into a different type. Rotamer torsion angles and library probability values are listed in a dialog, along with (optionally) hydrogen bonds, clashes, and agreement with electron density data. Only rotamers chosen in the list are displayed. When a single rotamer is chosen, it can be incorporated into the structure. The image includes 2D labels.
(More features...)
---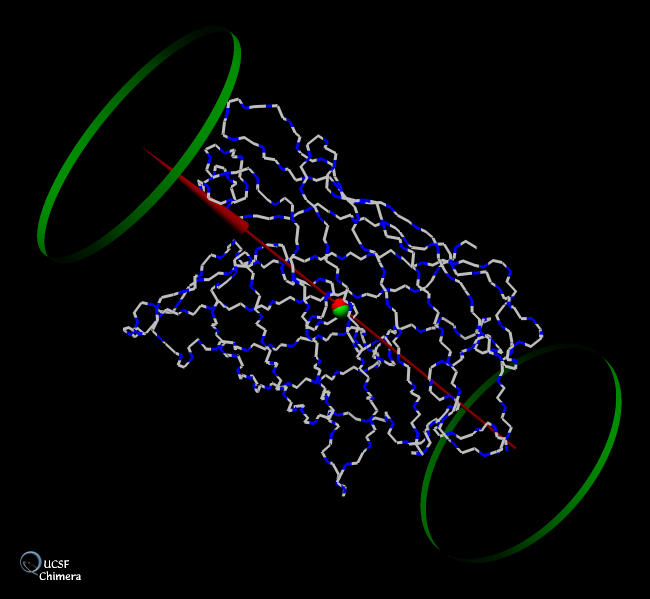 BILD format was used in Chimera to annotate the barrel structure of green fluorescent protein with its centroid, major axis (red arrow), and an enclosing cylinder (shown with green hoops). The BILD file green.bild was generated with the python program green.py using the coordinates in green.pdb. Gallery entry courtesy of Mike Ess, Yeast Resource Center, University of Washington. (More samples...)
---
About RBVI | Projects | People | Publications | Resources | Visit Us
Copyright 2018 Regents of the University of California. All rights reserved.