UCSF ChimeraX
UCSF ChimeraX (or simply ChimeraX) is the next-generation molecular visualization program from the Resource for Biocomputing, Visualization, and Informatics (RBVI), following UCSF Chimera. ChimeraX can be downloaded free of charge for academic, government, nonprofit, and personal use. Commercial users, please see ChimeraX commercial licensing.
ChimeraX is developed with support from National Institutes of Health R01-GM129325, Chan Zuckerberg Initiative grant EOSS4-0000000439, and the Office of Cyber Infrastructure and Computational Biology, National Institute of Allergy and Infectious Diseases.
The Presets menu includes a few different combinations of cartoon and nucleotide styles, shown here along with overall settings from the Publication preset plus lighting depthcue false. The style settings of cartoons and nucleotides can be controlled individually (and with many more possibilities than shown here) with cartoon style and nucleotides, respectively. See also: Toolbar nucleotides icons
| | | |
| --- | --- | --- |
| | | |
| ribbons/slabs | cylinders/stubs | licorice/ovals |

More features...
---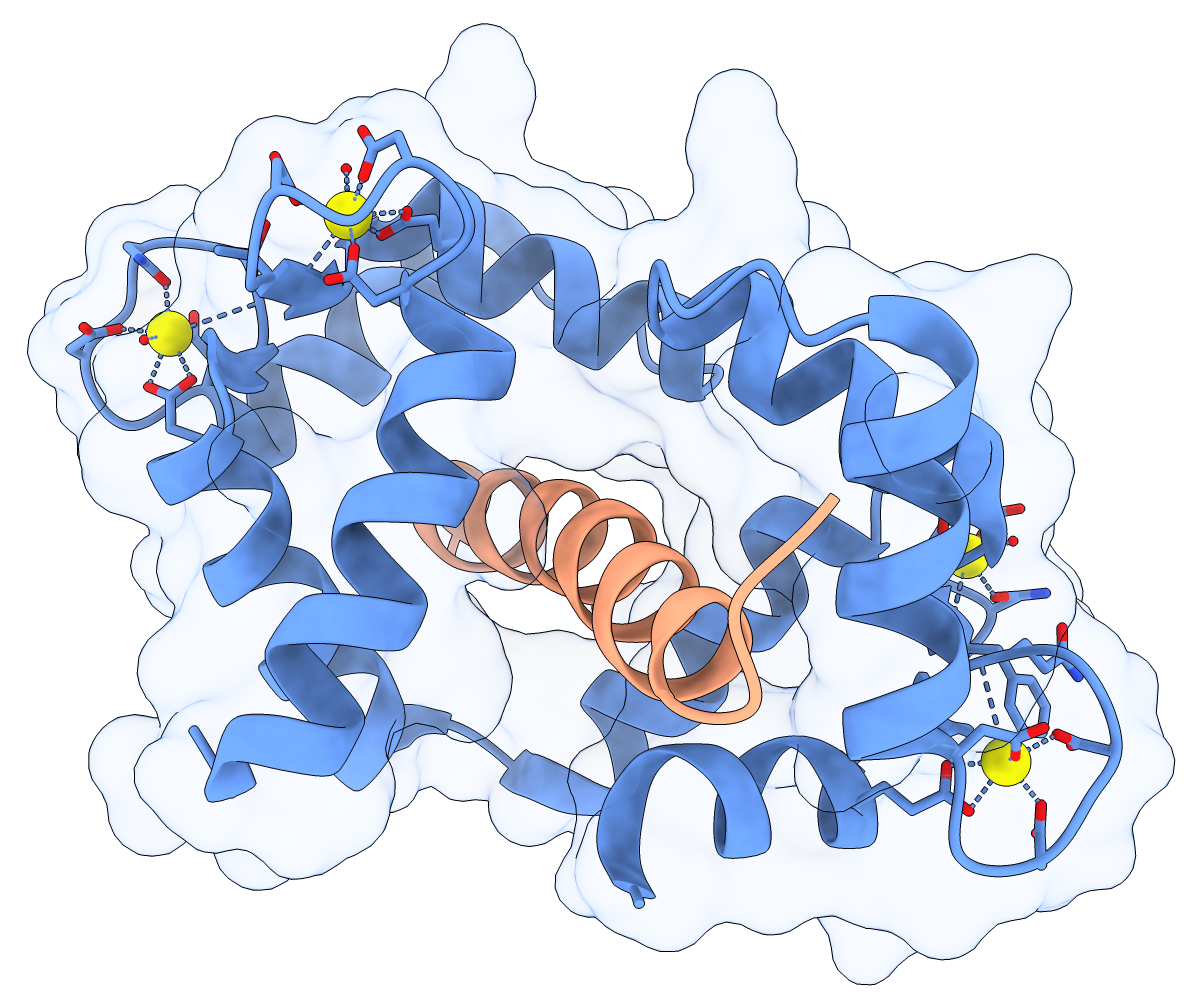 Calmodulin (CaM) acts as a calcium sensor. When its four Ca++ sites are fully occupied, it binds and modulates the activity of various downstream proteins, including CaM-dependent protein kinase I (CaMKI). Here, a complex between CaM and its target peptide from CaMKI (PDB 1mxe) is shown with cartoons, a transparent molecular surface, silhouette outlines, and light soft ambient occlusion. (If you prefer a less smudgy/rustic appearance, try using light gentle instead.) For image setup other than positioning, see the command file cam.cxc.
---
---
About RBVI | Projects | People | Publications | Resources | Visit Us
Copyright 2018 Regents of the University of California. All rights reserved.