home
overview
research
resources
outreach & training
outreach & training
visitors center
visitors center
search
search
Google™ Search
May 13, 2014
Chimera production release 1.9 is now available. See the release notes for new features since the 1.8 release series.
April 23, 2014
A production release candidate (version 1.9) is now available; please try it and report any problems. See the release notes for changes relative to the previous release.
October 31, 2013
Chimera production release 1.8.1 is now available. Changes since 1.8 are mainly to fix problems with Mac OS X 10.9 (Mavericks). See the release notes for further details and for a list of new features since the 1.7 release.
(Previous news...)

UCSF Chimera is a highly extensible program for interactive visualization and analysis of molecular structures and related data, including density maps, supramolecular assemblies, sequence alignments, docking results, trajectories, and conformational ensembles. High-quality images and animations can be generated. Chimera includes complete documentation and several tutorials, and can be downloaded free of charge for academic, government, non-profit, and personal use. Chimera is developed by the Resource for Biocomputing, Visualization, and Informatics, funded by the National Institutes of Health (NIGMS P41-GM103311).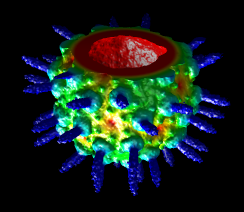 A surface can be colored radially, that is, by distance from a user-specified point. Additional options include coloring by distance from an axis or a plane. Different coloring schemes can be applied.
(More features...)
---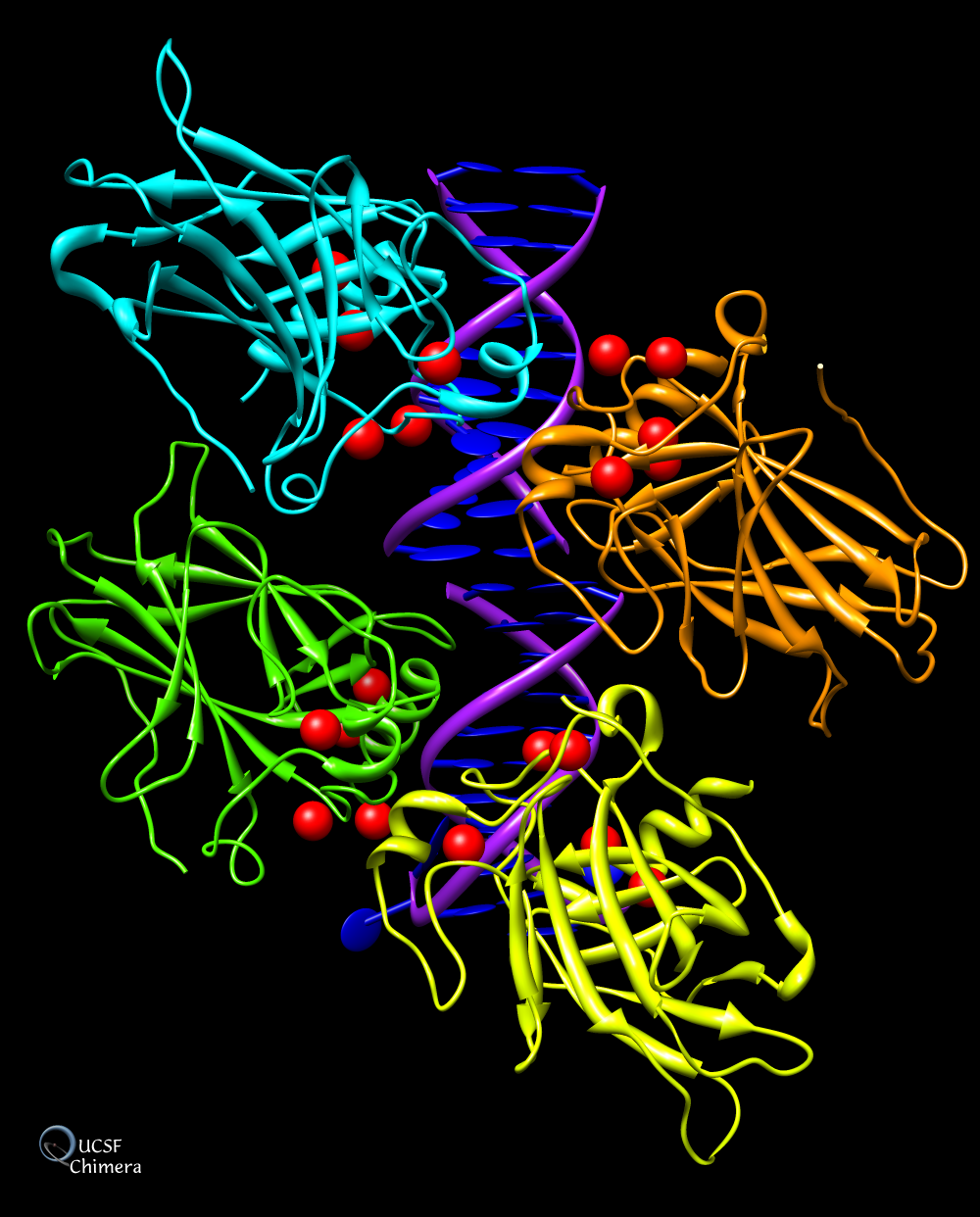 Mutations that inactivate the tumor suppressor p53 are found in over 50% of human cancers, and most of the cancer-associated mutations are within its DNA-binding domain. The image shows a tetramer of the p53 DNA-binding domain complexed with DNA (Protein Data Bank entry 2ac0). The tetramer subunits are shown as light blue, green, orange, and yellow ribbons, with red spheres marking several major "hot spots" of mutation. The DNA is shown in purple and blue. (More samples...)