home
overview
research
resources
outreach & training
outreach & training
visitors center
visitors center
search
search

UCSF Chimera is a highly extensible program for interactive visualization and analysis of molecular structures and related data, including density maps, supramolecular assemblies, sequence alignments, docking results, trajectories, and conformational ensembles. High-quality images and animations can be generated. Chimera includes complete documentation and several tutorials, and can be downloaded free of charge for academic, government, non-profit, and personal use. Chimera is developed by the Resource for Biocomputing, Visualization, and Informatics, funded by the National Institutes of Health (NIGMS P41-GM103311).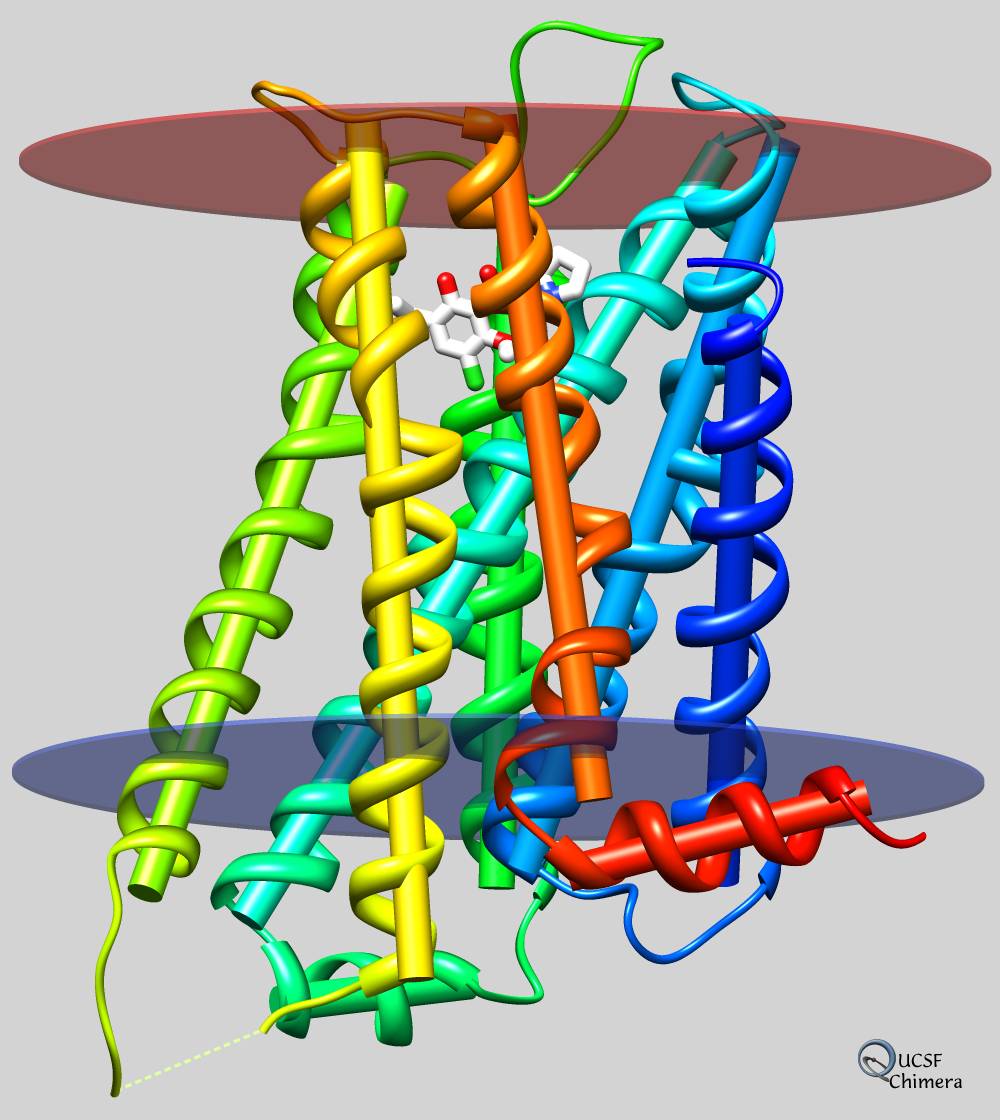 Axes, planes, and centroids can be calculated from sets of atoms using the Axes/Planes/Centroids tool or the command define. Axes can be shown as cylinders, planes as disks, and centroids as spheres, and any of these can be used in distance and angle measurements.
For example, the figure shows the dopamine D3 receptor and bound inhibitor (PDB entry 3pbl) as modeled into the membrane in the OPM database. The planes of the inner and outer membrane boundaries are shown as transparent blue and red disks, respectively. The protein ribbon is rainbow-colored from blue at the N-terminus to red at the C-terminus, and the axis of each helix is shown as a cylinder of matching color. The axis of the red helix forms an angle of 15.1° with the membrane and comes within 3.5 Å of the inner boundary. The yellow and orange helices are nearly antiparallel (crossing angle 5.9°). The average (minimum, maximum) distance of inhibitor atoms from the outer boundary is 7.9 (5.1, 11.7) Å.
(More features...)
---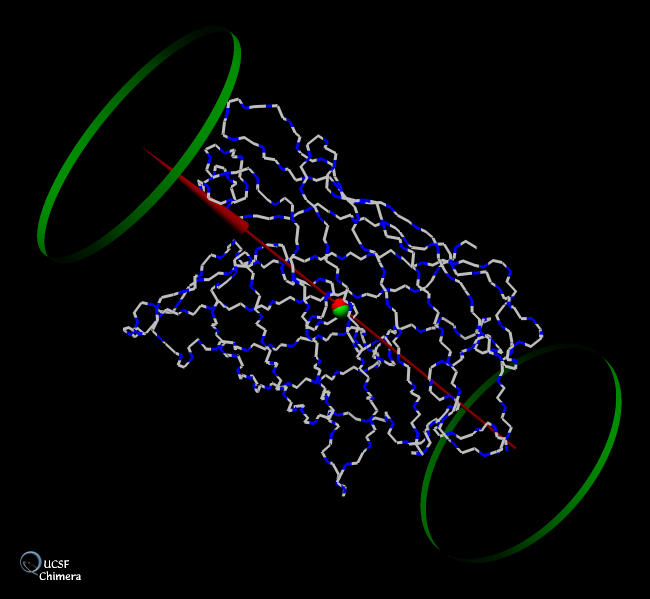 BILD format was used in Chimera to annotate the barrel structure of green fluorescent protein with its centroid, major axis (red arrow), and an enclosing cylinder (shown with green hoops). The BILD file green.bild was generated with the python program green.py using the coordinates in green.pdb. Gallery entry courtesy of Mike Ess, Yeast Resource Center, University of Washington. (More samples...)