Google™ Search
September 27, 2022
Website downtime: The RBVI website (Chimera, ChimeraX, etc.) and RBVI-hosted web services will be down for maintenance from Tue, Sep 27 9pm PDT, through Wed, possibly extending to Thu, Sep 29 5pm PDT.
December 20, 2021
The RBVI wishes you a safe and happy holiday season! See our
2021 card
and the
gallery of previous cards
back to 1985.
December 17, 2021
Chimera production release 1.16 is now available. This will be the last release to support Windows 7. See the release notes for what's new.
Previous news...

UCSF Chimera is a program for the interactive visualization and analysis of molecular structures and related data, including density maps, trajectories, and sequence alignments. It is available free of charge for noncommercial use. Commercial users, please see Chimera commercial licensing.
We encourage Chimera users to try ChimeraX for much better performance with large structures, as well as other major advantages and completely new features. ChimeraX includes a significant subset of Chimera features (with more to come, see the missing features list) and is under active development. Users may choose to use both programs, and it is fine to have both installed.
Chimera is no longer under active development, and is only updated for critical maintenance. Chimera development was supported by a grant from the National Institutes of Health (P41-GM103311) that ended in 2018.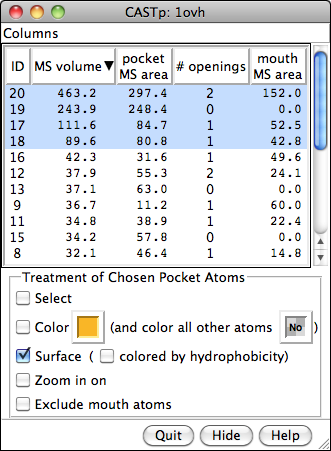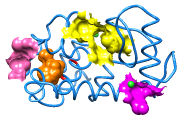 Structures and their pocket measurements can be fetched directly from the Computed Atlas of Surface Topography of proteins (CASTp) database or read from local files previously returned by the CASTp server. In Chimera, the pockets are shown in a pocket list. Choosing rows in the list performs actions such as zooming in on pockets and selecting the surrounding atoms.
The figure shows the four largest pockets by volume identified by CASTp for PDB entry 1ovh (a cavity mutant of T4 lysozyme), shown in yellow, orange, pink, and magenta in order of decreasing volume. The largest is lysozyme's active site, with two openings. The second largest is the engineered cavity. Mutated positions are shown in red. Green balls are Cl– ions.
(More features...)
---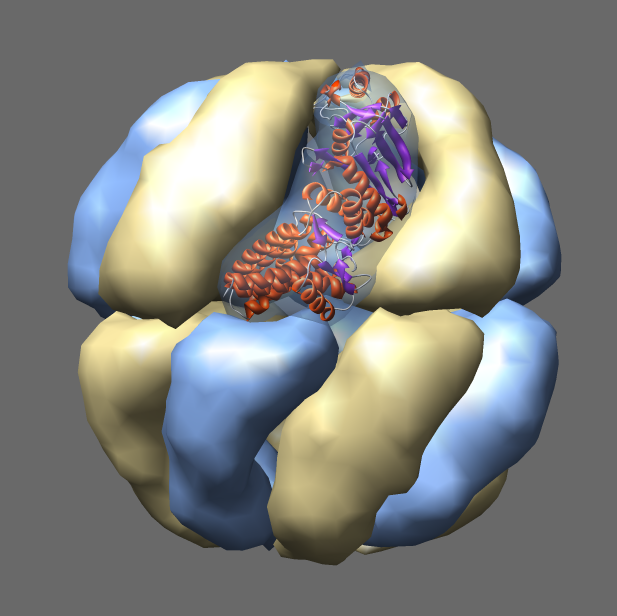 Thermosomes are hollow balls inside which proteins are folded. They are found in the cytosol of eukaryotes and in archaea. Eukaryotic thermosomes have 8 different protein subunits, while archaeal ones are composed of one, two or three different proteins. The one shown from Thermoplasma acidophilum has two distinct proteins colored blue and yellow, each present in 8 copies. The two proteins have 60% sequence identity and are very similar in structure. One monomer is shown as a ribbon. Actin and tubulin are folded by eukaryotic thermosomes.
Protein Data Bank model 1a6d.
(More samples...)
---
About RBVI | Projects | People | Publications | Resources | Visit Us
Copyright 2018 Regents of the University of California. All rights reserved.