Google™ Search
September 21, 2018
Mac users are advised to hold off upgrading to Mojave until we find a fix for Chimera buttons not being shown until the windows containing them are resized.
July 3, 2018
Chimera production release 1.13 is now available. See the release notes for what's new.
June 2, 2018
A production release candidate (version 1.13) is available; please try it and report any problems. See the release notes for what's new.
(Previous news...)

UCSF Chimera is a highly extensible program for interactive visualization and analysis of molecular structures and related data, including density maps, supramolecular assemblies, sequence alignments, docking results, trajectories, and conformational ensembles. High-quality images and animations can be generated. Chimera includes complete documentation and several tutorials, and can be downloaded free of charge for academic, government, nonprofit, and personal use. Chimera is developed by the Resource for Biocomputing, Visualization, and Informatics (RBVI), supported in part by the National Institutes of Health (P41-GM103311).
UCSF ChimeraX (or simply ChimeraX) is the next-generation molecular visualization program from the RBVI, following UCSF Chimera.
The PDB/UniProt Info tool retrieves sequence and structure annotations for Protein Data Bank (PDB) entries using a Web service provided by the RCSB PDB. Sequences are displayed in Multalign Viewer, and feature annotations from UniProt are mapped onto the sequences as regions or colored boxes. In the region browser (figure at right):
making a region Active selects any corresponding structure residues for further operations; only one region can be active at a time
making a region Shown displays it in the sequence window
the square color wells show (and allow changing) the region interior and border colors
UniProt
annotations can also be fetched along with a sequence or mapped to a sequence already in
Multalign Viewer
regardless of whether the sequence is associated with a structure.
(More features...)
---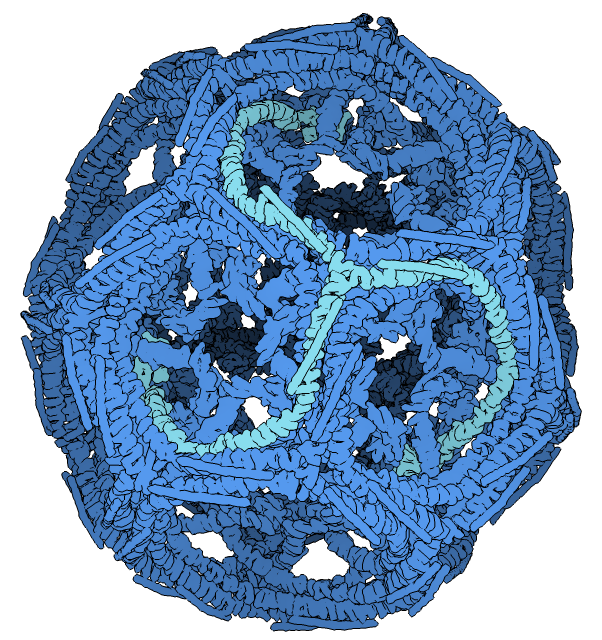 This image of a clathrin cage uses flat shading and edge highlighting. It is a copy of a PDB molecule of the month image made by Graham Johnson and Dave Goodsell. David Goodsell pioneered this visualization style. This image was made with the Multiscale tool, silhouette edging, and surface lighting turned off.
Protein Data Bank model 1xi4.
(More samples...)
---
About RBVI | Projects | People | Publications | Resources | Visit Us
Copyright 2018 Regents of the University of California. All rights reserved.