Google™ Search
November 13, 2019
Chimera production release 1.14 is now available. See the release notes for what's new.
September 21, 2019
A production release candidate (version 1.14) is available; please try it and report any problems. See the release notes for what's new.
November 17, 2018
Chimera production release 1.13.1 is now available; see the release notes for what's new. The Mac version requires OS 10.10 or later.
(Previous news...)

UCSF Chimera is a program for the interactive visualization and analysis of molecular structures and related data, including density maps, trajectories, and sequence alignments. High-quality images and animations can be generated. Chimera includes complete documentation and is free of charge for academic, government, nonprofit, and personal use. Chimera development was supported by the National Institutes of Health (P41-GM103311).
UCSF ChimeraX is the next-generation molecular visualization program from the RBVI, following UCSF Chimera. We encourage Chimera users to try ChimeraX for much better performance with large structures, as well as other major advantages. ChimeraX replaces a significant subset of Chimera features, includes several completely new features, and is under active development. Users may certainly choose to use both programs, and it is fine to have both installed.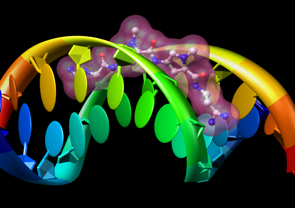 (More features...)
---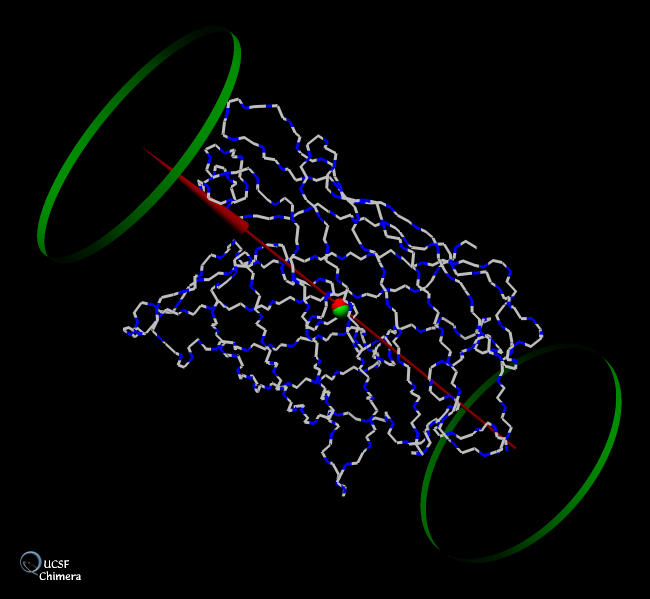 BILD format was used in Chimera to annotate the barrel structure of green fluorescent protein with its centroid, major axis (red arrow), and an enclosing cylinder (shown with green hoops). The BILD file green.bild was generated with the python program green.py using the coordinates in green.pdb. Gallery entry courtesy of Mike Ess, Yeast Resource Center, University of Washington. (More samples...)
---
About RBVI | Projects | People | Publications | Resources | Visit Us
Copyright 2018 Regents of the University of California. All rights reserved.