Google™ Search
April 19, 2023
Chimera production release 1.17.1 is now available, fixing an issue with 1.17 for Windows and Linux. See the release notes for details.
April 13, 2023
Chimera production release 1.17 is now available. Updating is required to keep using the tools that run Blast Protein, Modeller, and multiple sequence alignment with Clustal Omega or MUSCLE, as these will soon stop working in older versions. See the release notes for details.
December 21, 2022
The RBVI wishes you a safe and happy holiday season! See our
2022 card
and the
gallery of previous cards
back to 1985.
Previous news...
Please note that UCSF Chimera is legacy software that is no longer being developed or supported. Users are strongly encouraged to try
UCSF ChimeraX
, which is under active development.

UCSF Chimera is a program for the interactive visualization and analysis of molecular structures and related data, including density maps, trajectories, and sequence alignments. It is available free of charge for noncommercial use. Commercial users, please see Chimera commercial licensing.
We encourage Chimera users to try ChimeraX for much better performance with large structures, as well as other major advantages and completely new features in addition to nearly all the capabilities of Chimera (details...).
Chimera is no longer under active development. Chimera development was supported by a grant from the National Institutes of Health (P41-GM103311) that ended in 2018.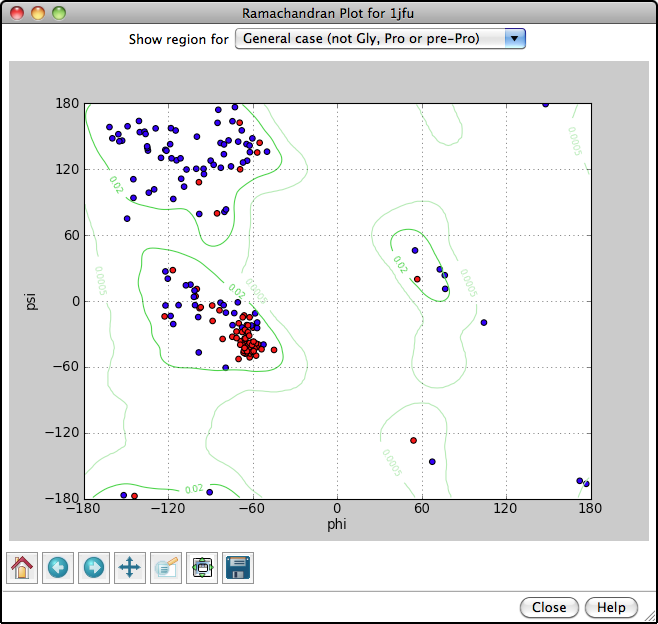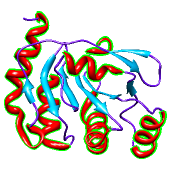 Protein backbone angles can be shown in a Ramachandran Plot along with probability contours (green lines) from a reference set of well-determined structures. Each amino acid residue is shown as a dot in a graph of φ vs. ψ, more commonly known as a Ramachandran plot or Ramachandran map. Residues are shown as blue dots, or when selected, as red dots. In the example, all helix residues have been selected. Conversely, clicking a dot in the plot will select the corresponding residue in the structure. When the plot has mouse focus, the cursor position (x = φ, y = ψ) is reported under the plot.
(More features...)
---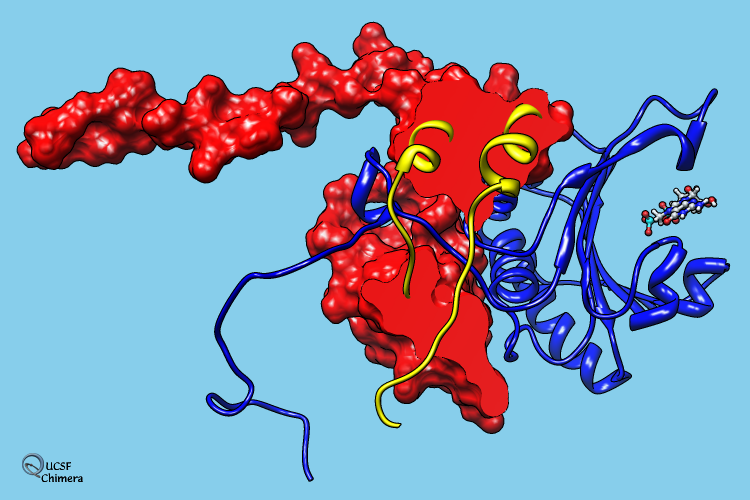 Eukaryotic initiation factor (eIF) complex (from Protein Data Bank entry 1rf8) in which eIF4E, shown with blue ribbons, is completely encircled by eIF4G, shown with yellow ribbons and red molecular surface (image creation details). (More samples...)
---
About RBVI | Projects | People | Publications | Resources | Visit Us
Copyright 2018 Regents of the University of California. All rights reserved.