UCSF Chimera is a program for the interactive visualization and analysis of molecular structures and related data, including density maps, trajectories, and sequence alignments. It is available free of charge for noncommercial use. Commercial users, please see Chimera commercial licensing.
We encourage Chimera users to try ChimeraX for much better performance with large structures, as well as other major advantages and completely new features. ChimeraX includes a significant subset of Chimera features (with more to come, see the missing features list) and is under active development. Users may choose to use both programs, and it is fine to have both installed.
Chimera is no longer under active development, and is only updated for critical maintenance. Chimera development was supported by a grant from the National Institutes of Health (P41-GM103311) that ended in 2018.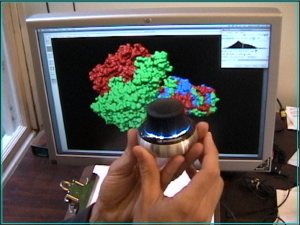 Space Navigator is an inexpensive ($60) USB input device from 3Dconnexion for moving and rotating models in 3 dimensions. This animation (8 Mb) shows docking a phage enzyme (PDB 1v0e) into an electron microscopy map (EMDB 1333) using a space navigator and mouse. Works with Windows and Mac Chimera versions (details).
(More features...)
---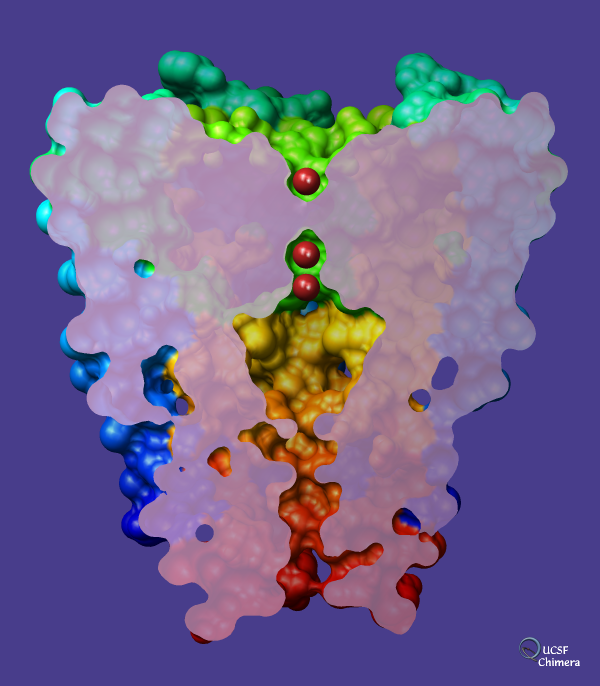 Potassium channel (Protein Data Bank entry 1bl8) on a dark slate blue background with potassium ions shown in firebrick. The channel is comprised of four chains. Each chain has been rainbow-colored from blue at the N-terminus to red at the C-terminus, but only the surface of the channel is shown. The surface has been sliced with a per-model clipping plane. The surface cap color is plum except with opacity set to 0.8. The shininess and brightness have been set to 128 and 8, respectively, and the lights on the scene have been moved from their default positions. The subdivision quality (related to the smoothness of the spherical ions) is 5.0, and the molecular surface was computed with probe radius and vertex density set to 1.0 and 6.0, respectively. (More samples...)
---
About RBVI | Projects | People | Publications | Resources | Visit Us
Copyright 2018 Regents of the University of California. All rights reserved.