November 23, 2022
The ChimeraX 1.5 production release is available! See the change log for what's new.
October 13, 2022
The ChimeraX 1.5 release candidate is available! Please try it and report any issues. See the change log for what's new.
September 27, 2022
Website downtime: The RBVI website (Chimera, ChimeraX, etc.) and RBVI-hosted web services will be down for maintenance from Tue, Sep 27 9pm PDT, through Wed, possibly extending to Thu, Sep 29 5pm PDT.
Previous news...
UCSF ChimeraX
UCSF ChimeraX (or simply ChimeraX) is the next-generation molecular visualization program from the Resource for Biocomputing, Visualization, and Informatics (RBVI), following UCSF Chimera. ChimeraX can be downloaded free of charge for academic, government, nonprofit, and personal use. Commercial users, please see ChimeraX commercial licensing.
ChimeraX is developed with support from National Institutes of Health R01-GM129325, Chan Zuckerberg Initiative grant EOSS4-0000000439, and the Office of Cyber Infrastructure and Computational Biology, National Institute of Allergy and Infectious Diseases.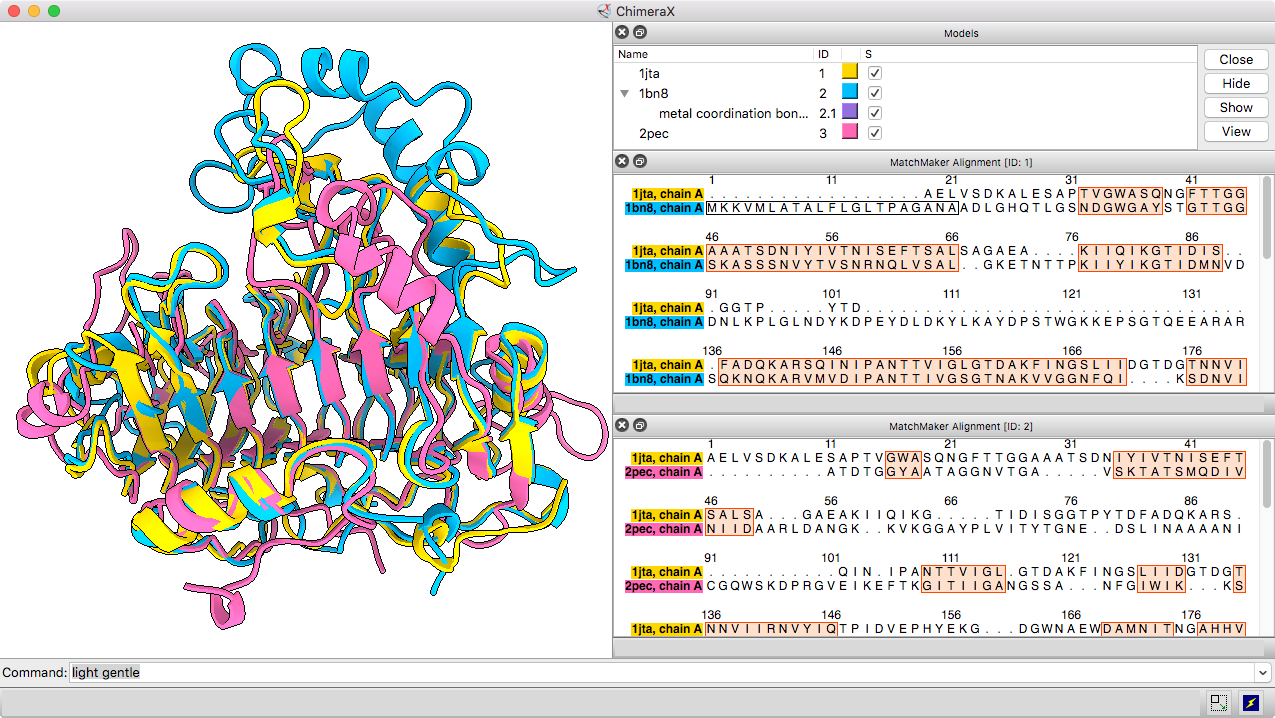 The Matchmaker tool (or matchmaker command) is convenient for superimposing related structures without having to worry about numbering or missing residues. It superimposes proteins or nucleic acids by creating a pairwise sequence alignment, then matching the sequence-aligned residues in 3D. Secondary structure helps guide the sequence alignment for better performance on more distantly related proteins with harder-to-align sequences. By default, the fit is iterated to exclude structurally dissimilar regions and superimpose the most similar parts more closely.
The resulting sequence alignments can be displayed, as in this example of three pectate lyases: PDB 1jta, 1bn8, and 2pec (see the command file peclyases.cxc). In the sequence alignments, residues used in the final fit iteration are enclosed in light orange boxes. RMSD values and other fit statistics are reported in the Log.
More features...
---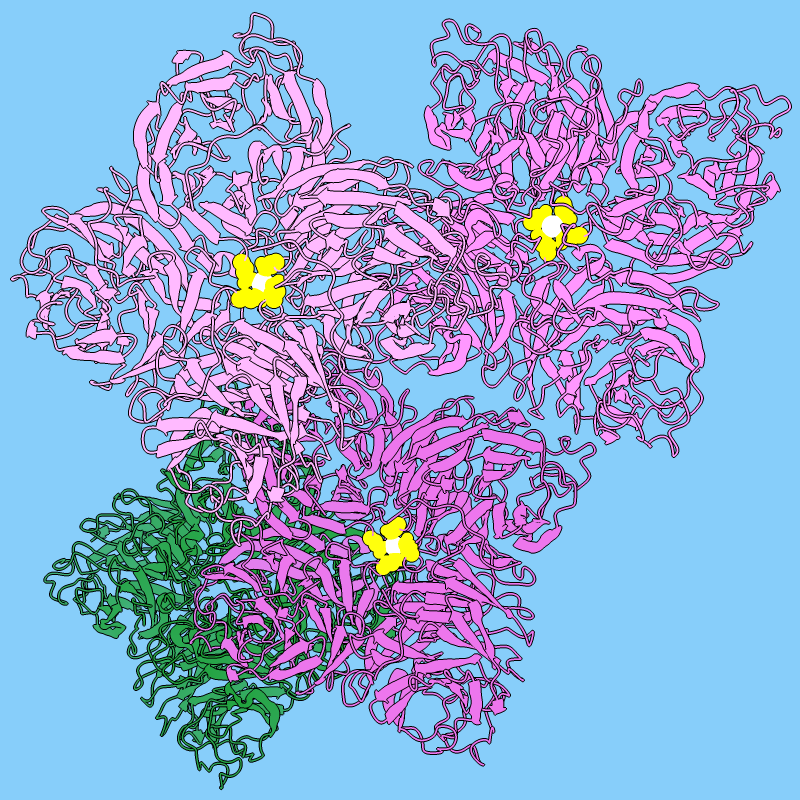 Influenza neuraminidase is an enzyme that promotes the spread of influenza virus among host cells. It is the target of oseltamivir and related antiviral drugs. The image shows tetramers of neuraminidase (PDB 3k3a) styled as flowers. Three tetramers are in different shades of pink, with a central metal ion in white and nearby residues in yellow, and a fourth tetramer is colored green to resemble leaves. Each monomer or "petal" is a six-bladed β-propeller. For image setup other than orientation, see the command file flowers.cxc. The Chimera Image Gallery includes a similar image.
---
---
About RBVI | Projects | People | Publications | Resources | Visit Us
Copyright 2018 Regents of the University of California. All rights reserved.