October 16, 2019
ChimeraX virtual reality featured in UCSF School of Pharmacy news: VR Drug Discovery Makes Precision Therapy a Reality [video]
June 20, 2019
ChimeraX virtual reality shown on PBS Newshour: How Close are Scientists to a Universal Flu Vaccine?
June 6, 2019
The ChimeraX 0.9 production release is available. See the change log for what's new.
Previous news...
October 24, 2019
Watch programmed cells form 3D structures with ChimeraX VR at the San Francisco Exploratorium After Dark party, October 24, 6-10 pm.
November 15, 2019
Join us for A Virtual Reality Look at Molecules, Cells and Tissues with ChimeraX, noon-1pm in the UCSF Library Makers Lab, Parnassus campus. Open to the UCSF community; please register.
UCSF ChimeraX
UCSF ChimeraX (or simply ChimeraX) is the next-generation molecular visualization program from the Resource for Biocomputing, Visualization, and Informatics (RBVI), following UCSF Chimera. ChimeraX can be downloaded free of charge for academic, government, nonprofit, and personal use. Commercial users, please see licensing.
ChimeraX is developed with support from National Institutes of Health R01-GM129325 and the Office of Cyber Infrastructure and Computational Biology, National Institute of Allergy and Infectious Diseases.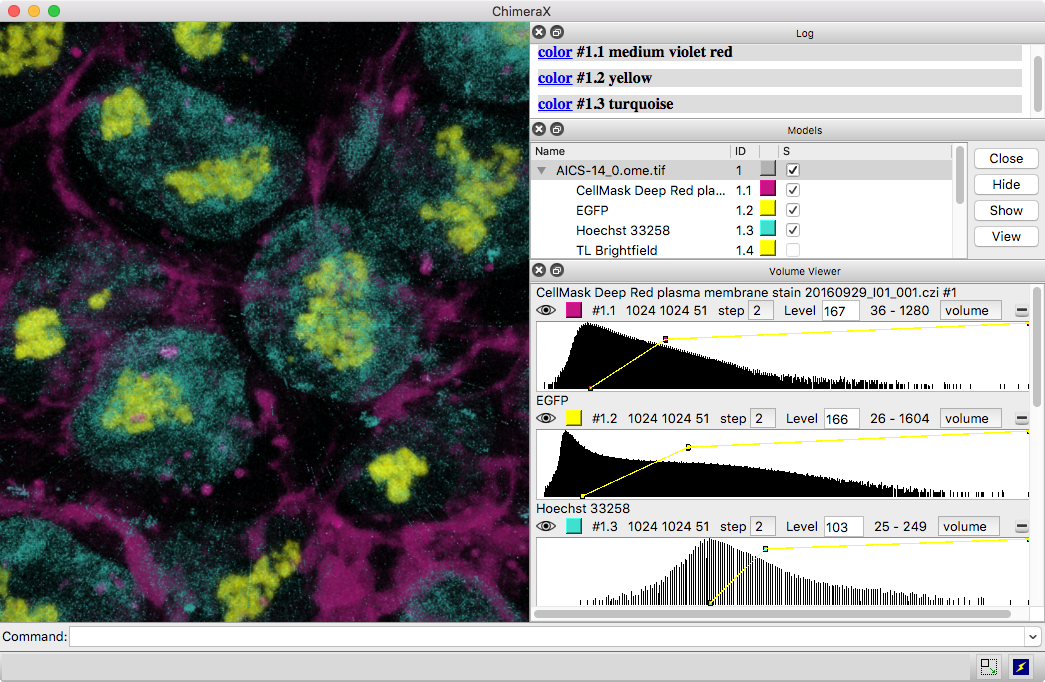 3D images and time series from multichannel optical microscopy are shown in the Volume Viewer tool, with easy access to hiding/showing individual channels, changing their colors, and adjusting threshold levels with the mouse. The menu of style options includes "volume" (translucent blobs, as in the image), surface, mesh, maximum intensity projection, single plane, and orthoplanes. For convenience, the step size, region bounds, and display style of different channels of the same dataset are coupled, in that changing the setting of one channel automatically changes it for the others.
The image shows human induced pluripotent stem cells, with plasma membrane in violet red, EGFP-tagged fibrillarin (as a marker for nucleolus) in yellow, and DNA (nucleus) in turquoise. The data are publicly available from the Allen Cell Explorer website, dataset: AICS-14_0.
More features...
---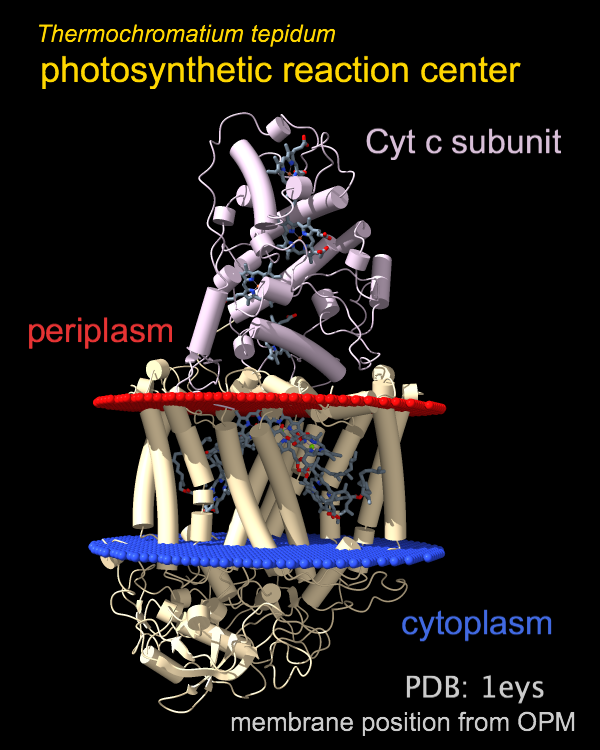 The photosynthetic reaction center from a purple sulfur bacterium is shown as a cartoon with "tube" helices and membrane boundaries from the OPM database (Orientations of Proteins in Membranes, entry 1eys). Blue and red balls represent the cytoplasmic and periplasmic sides of the bacterial inner membrane, respectively. The title and other text labels were added with the 2dlabels command and repositioned interactively with the move label mouse mode

. ChimeraX session file: prc.cxs
---
---
About RBVI | Projects | People | Publications | Resources | Visit Us
Copyright 2018 Regents of the University of California. All rights reserved.