UCSF ChimeraX
UCSF ChimeraX (or simply ChimeraX) is the next-generation molecular visualization program from the Resource for Biocomputing, Visualization, and Informatics (RBVI), following UCSF Chimera. ChimeraX can be downloaded free of charge for academic, government, nonprofit, and personal use. Commercial users, please see licensing.
ChimeraX development is supported in part by grants from the National Institutes of Health (currently R01-GM129325, previously P41-GM103311).
A cryoelectron microscopy map of the 26S proteasome (EMD-4321) is shown at the author-recommended contour level in two different lighting modes: "simple" on the left and "soft" on the right. Soft lighting includes ambient lighting and shadowing (occlusion) and can be turned on with the command lighting soft or by clicking the Graphics sugar-cube icon.
For setup of the righthand image, see the command file ambient.cxc.
More features...
---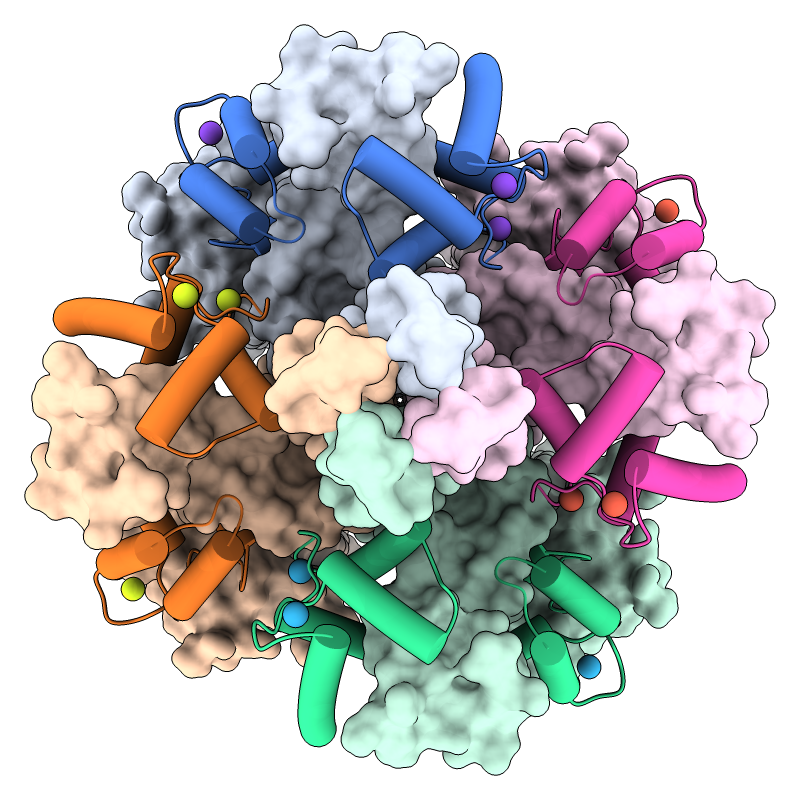 KCNQ1 is the pore-forming subunit of a cardiac potassium channel. It binds to calmodulin, and mutations in either of these proteins can cause congenital long QT syndrome, a dangerous propensity for irregular heartbeats. In the image, a structure of the KCNQ1/calmodulin complex (PDB 5vms) has been assembled into the native tetrameric form with the sym command. The view is from the cytoplasmic side, with KCNQ1 shown as surfaces, calmodulin as cartoons, and calcium ions as balls. A pastel palette from ColorBrewer has been used to color the surfaces, darkened with color modify for the cartoons, and "rotated" 45° in hue for the ions. See the command file colormod.cxc.
---
---
About RBVI | Projects | People | Publications | Resources | Visit Us
Copyright 2018 Regents of the University of California. All rights reserved.