home
overview
research
resources
outreach & training
outreach & training
visitors center
visitors center
search
search
Google™ Search
October 31, 2013
Chimera production release 1.8.1 is now available. Changes since 1.8 are mainly to fix problems with Mac OS X 10.9 (Mavericks). See the release notes for further details and for a list of new features since the 1.7 release.
June 7, 2013
Chimera production release 1.8 is now available. See the release notes for new features since the 1.7 release.
April 18, 2013
A production release candidate (version 1.8) is now available; please try it and report any problems. See the release notes for changes relative to the previous release.
(Previous news...)

UCSF Chimera is a highly extensible program for interactive visualization and analysis of molecular structures and related data, including density maps, supramolecular assemblies, sequence alignments, docking results, trajectories, and conformational ensembles. High-quality images and animations can be generated. Chimera includes complete documentation and several tutorials, and can be downloaded free of charge for academic, government, non-profit, and personal use. Chimera is developed by the Resource for Biocomputing, Visualization, and Informatics, funded by the National Institutes of Health (NIGMS P41-GM103311).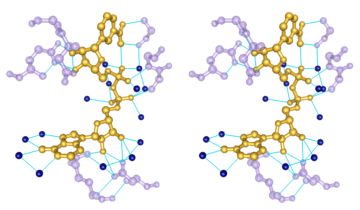 determination of atom types in arbitrary molecules, including non-standard residues
ability to add hydrogen atoms
high-quality hydrogen bond identification
selection of atoms/bonds by element, atom type, functional group, amino acid category
interactive bond rotation, distance and angle measurements
(More features...)
---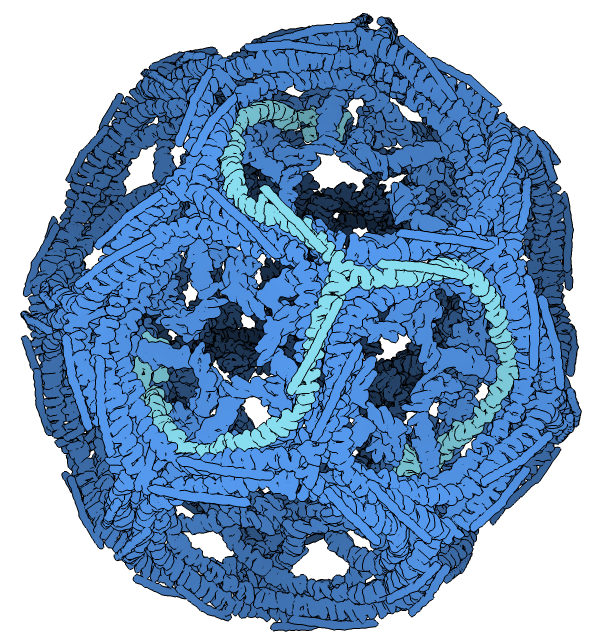 This image of a clathrin cage uses flat shading and edge highlighting. It is a copy of a PDB molecule of the month image made by Graham Johnson and Dave Goodsell. David Goodsell pioneered this visualization style. This image was made with the Multiscale tool, silhouette edging, and surface lighting turned off.
Protein Data Bank model 1xi4.
(More samples...)