UCSF Chimera is a program for the interactive visualization and analysis of molecular structures and related data, including density maps, trajectories, and sequence alignments. It is available free of charge for noncommercial use. Commercial users, please see Chimera commercial licensing.
We encourage Chimera users to try ChimeraX for much better performance with large structures, as well as other major advantages and completely new features. ChimeraX includes a significant subset of Chimera features (with more to come, see the missing features list) and is under active development. Users may choose to use both programs, and it is fine to have both installed.
Chimera is no longer under active development, and is only updated for critical maintenance. Chimera development was supported by a grant from the National Institutes of Health (P41-GM103311) that ended in 2018.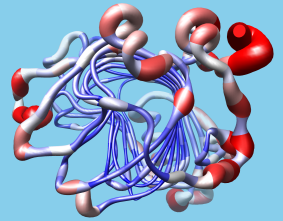 Users can easily import structure-related data into Chimera in the form of attributes, or values associated with atoms, residues, or models. The data can be imported with Define Attribute and then represented visually with color ranges, atomic radii, or "worm" thickness. Such data can also be manipulated programmatically in Chimera, and in fact Chimera was designed with extensibility and programmability in mind. It is largely implemented in Python, with certain features coded in C++ for efficiency. Python is an easy-to-learn interpreted language with object-oriented features. All of Chimera's functionality is accessible through Python and users can implement their own algorithms and extensions without any Chimera code changes, so any such custom extensions will continue to work across Chimera releases. Many programming examples are provided to assist extension writers.
(More features...)
---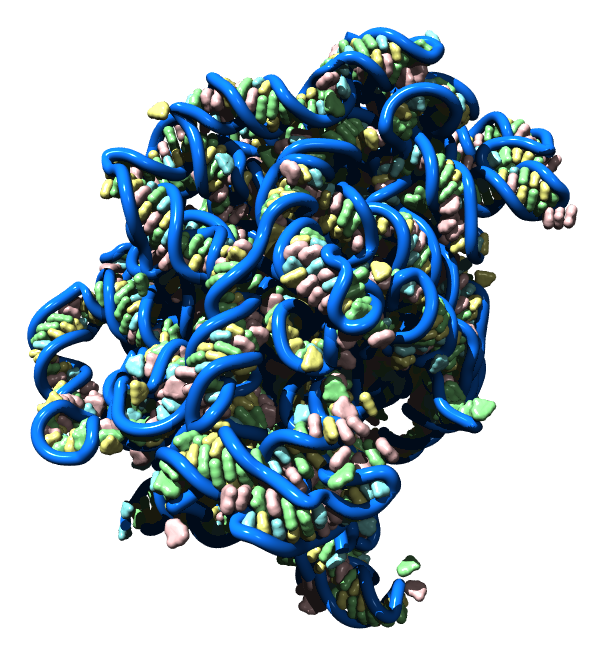 Large ribosomal RNA is shown with individual bases depicted using solvent excluded molecular surfaces. Bases A, C, G, U are colored red, yellow, green, and blue. The surfaces were made with the Chimera multiscale tool in combination with the nucleic acid blobs plug-in. The image was raytraced using POVray.
Protein Data Bank model 1s72.
(More samples...)
---
About RBVI | Projects | People | Publications | Resources | Visit Us
Copyright 2018 Regents of the University of California. All rights reserved.