home
overview
research
resources
outreach & training
outreach & training
visitors center
visitors center
search
search
Google™ Search
September 24, 2016
Production release candidate (version 1.11.2) is available, superseding 1.11.1. The new version has been updated to work with changes in NCBI Blast (see release notes). Please try it and report any problems.
August 27, 2016
A production release candidate (version 1.11.1) is now available. Please try it and report any problems. See the release notes for what's been fixed since 1.11. The 1.11 release series will be the last to support 32-bit builds.
July 15, 2016
Chimera production release 1.11 is now available. 64-bit builds are now recommended for all capable platforms, and v1.11 will be the last to support 32-bit builds. See the release notes for details.
(Previous news...)

UCSF Chimera is a highly extensible program for interactive visualization and analysis of molecular structures and related data, including density maps, supramolecular assemblies, sequence alignments, docking results, trajectories, and conformational ensembles. High-quality images and animations can be generated. Chimera includes complete documentation and several tutorials, and can be downloaded free of charge for academic, government, non-profit, and personal use. Chimera is developed by the Resource for Biocomputing, Visualization, and Informatics (RBVI), funded by the National Institutes of Health (NIGMS P41-GM103311).
UCSF ChimeraX (or simply ChimeraX) is the next-generation molecular visualization program from the RBVI, following UCSF Chimera. It is in early development and not yet publicly released, with release anticipated sometime in 2016.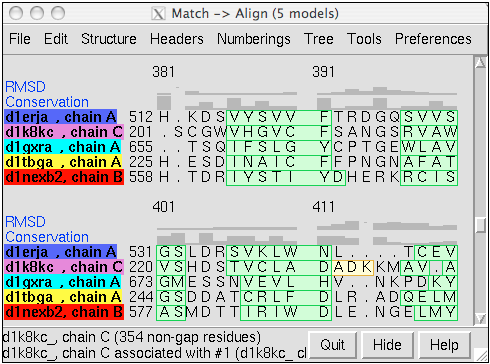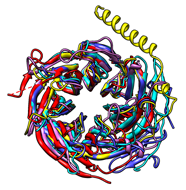 Given two or more superimposed structures, Match→Align creates a corresponding sequence alignment. The user specifies a distance cutoff for residues allowed to be in the same column of the output alignment. In proteins, the distances are measured between α-carbons. The method is independent of residue types and how the structures were superimposed.
The figure shows a superposition from MatchMaker of five proteins from the SCOP WD40 superfamily and a corresponding sequence alignment from Match→Align, automatically shown in Multalign Viewer. In the sequence alignment, light green and yellow boxes indicate strands and helices, while the headers RMSD and Conservation show spatial and sequence conservation, respectively.
(More features...)
---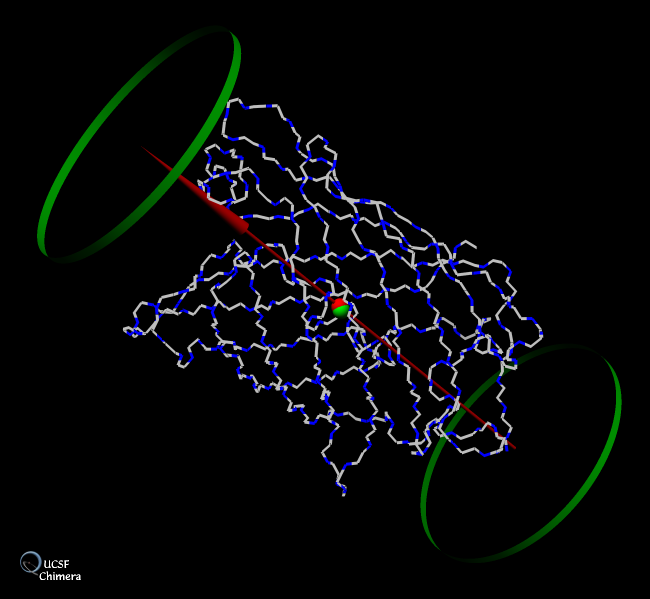 BILD format was used in Chimera to annotate the barrel structure of green fluorescent protein with its centroid, major axis (red arrow), and an enclosing cylinder (shown with green hoops). The BILD file green.bild was generated with the python program green.py using the coordinates in green.pdb. Gallery entry courtesy of Mike Ess, Yeast Resource Center, University of Washington. (More samples...)