Visualization of X-ray Tomograms using Chimera
Tom Goddard
February 6, 2008
Topics
Types of data Chimera displays.
Demonstration segmenting x-ray tomogram of dividing S. pombe cell.
Is Chimera the right software for x-ray tomography?
What does Chimera do?
Interactive visualization and simple analysis of 3-dimensional data.
| | |
| --- | --- |
| Atomic models and sequences | |
| | | |
| --- | --- | --- |
| Crystallography maps | Single particle reconstructions | EM tomography |
Demonstration
X-ray tomogram of dividing S. pombe cell provided by Dula Parkinson.
Which Software to Use?
Chimera, Amira and IMOD have many overlapping and many unique capabilities.
All are well documented and time-consuming to learn.
Electron microscopy labs often use all 3 programs -- one primarily and others to fill gaps.
Availability of in-lab experts is a key factor in which program is most effective.
Who the program is designed for greatly effects utility.
Chimera
Amira
IMOD
Good

Easy to use. Free. Extendable.

Developers nearby. Collaboration.

Focused on map analysis.

Flow-graph programming is flexible.

Good 2D plane by plane data analysis and segmentation.

Free.
Bad

Focused on molecular scale.

Map capabilities developed for electron microscopy at molecular resolution.

High cost per machine license.

Commercial vendor may focus on large customers' needs (medical imaging).

Limited extendability (C++).

Limited 3D capabilities?

I have not used the program enough to evaluate it.
Chimera Setup and Support
Chimera is free for academic use. Funded by NIH through 2012.
Runs on Windows (including Vista), Mac (including Leopard), Linux.
Nightly builds have the latest features, production releases every 6 months for stability.
5 developers enable fast user support by email, and active development of new features.
How-to style documentation for map display: Guide to Volume Data Display, see link on Chimera home page.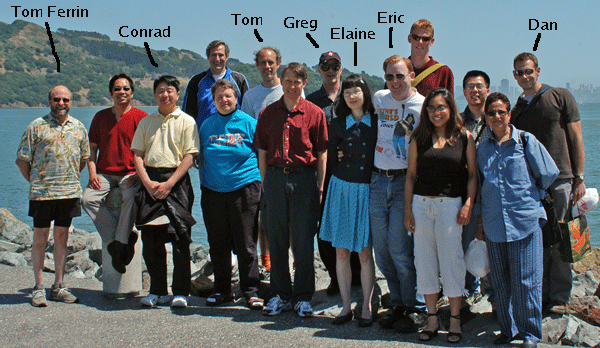 Demonstration Details

Show original tilt series data, pombe21.tif, 90 image multipage tiff file.
Enable plane display.
Put one threshold at left edge of histogram at middle height, one in middle
  of histogram at top, rightmost one not quite at right edge to eliminate border.
Chimera does not calculate tomograms from tilt series.
Can make movie from tilt series.
Note the bright illumination in the upper right, and overlap of another
  cell at bottom for many view angles.
Close tilt series.