1st appeared 16 June 1998
Academic Senate to Honor Ferrin for University Service
Professor Thomas Ferrin, director of the UCSF Computer Graphics Laboratory, is the recipient of the Academic Senate San Francisco Division's 1997-98 University Service Award. At its divisional meeting on Thursday, the Academic Senate will honor Ferrin, a national leader in computer networking, for his years of commitment and innovation at UCSF.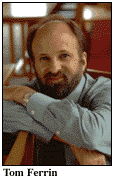 The University Service Award recognizes and honors faculty who have made outstanding contributions to the University through service on faculty and administrative committees at the University, campus, school, and department levels. Recipients of this annual award must have demonstrated leadership, made important innovations, and/or shown unusual dedication and effectiveness in their committee roles.
Over the past 16 years, Ferrin has been instrumental in establishing and advancing the data communications network for the campus as well as developing continuing policy for the planning, implementation, and operation of this campus resource. In nominating Ferrin for the award, his colleagues cited his "leading edge" ideas that have enabled the UCSF community to communicate and work more effectively and have given students access to resources that otherwise would not have been available to them.
Links:
Previous Daybreak article on Ferrin