Integrated Analysis of Molecular Assemblies using Chimera
A Demonstration with Alpha Crystallin
NCRR Site Visit
November 17, 2011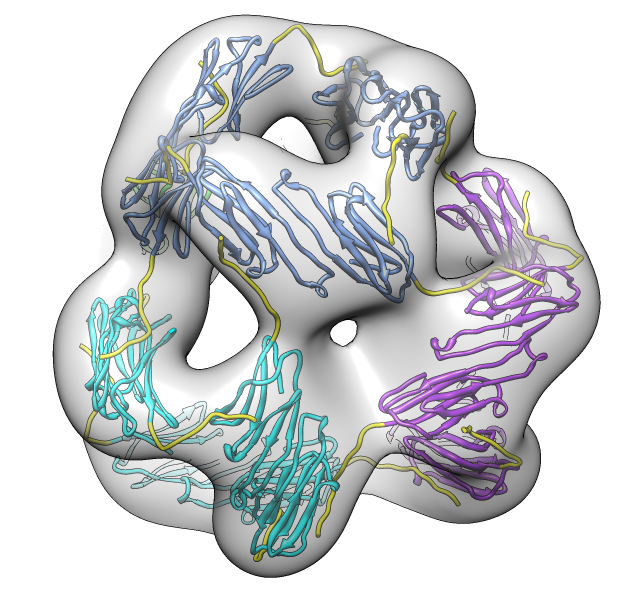 Purpose of this Demonstration
This demonstration will show the inter-play of many current Chimera capabilities to model a molecular assembly.
It illustrates the interactive, integrated and multi-faceted nature of the Chimera software package.
Will show tools developed as part of the technology project called "Software for interactive analysis of large molecular assemblies".
Software for Analysis of Large Molecular Assemblies
Examples of large molecular assemblies are viruses, ribosomes, polymerases, spliceosome, nuclear pores, proteasome, microtubules, nucleosomes, and a few thousand more.
Most proteins and nucleic acids in the cell carry out their functions in dynamic large assemblies, often composed of tens of molecules, sometimes hundreds of molecules.
Chimera is the leading software for interactive model building and analysis of large molecular assemblies.
Chimera is used by nearly every research lab that studies assemblies by 3-dimensional electron microscopy.
Software development is driven by interactions with over 100 electron microscopy research labs.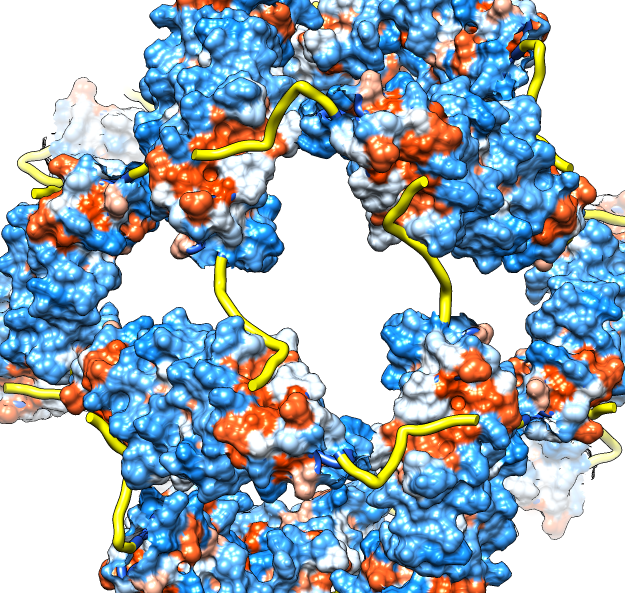 Example System: Alpha Crystallin
Human alpha crystallin is a molecular chaperone that prevents aggregation of unfolded proteins.
Its oligomeric structure and mechanism of functioning are poorly understood.
About 50% of the protein in the eye lens is alpha crystallin.
Alpha crystallin is found in many tissues, especially the heart and brain, and is an important factor in diseases ranging from cataracts and heart disease to neurodegenerative diseases where protein aggregation occurs such as Parkinson's and Alzheimer's.
Modeling Alpha Crystallin
This demonstration will build a model of an alpha crystallin 24-mer, explore its mechanism of preventing aggregation, and compare it to a distantly related Archaeal small heat shock protein 24-mer.
Main message of the demonstration: a diverse collection of software analysis capabilities is required for the analysis. The many Chimera capabilities enable incorporating all available data in the analysis (we will show EM, X-ray, NMR and SAXS).
The entire model building takes 60 minutes of interactive work. We will look at some of the steps in the 10 minutes available.
Demo Outline
24 copies of alpha crystallin form oligomer
seen by electron microscopy (20 Angstrom resolution).
Human alpha crystallin is 2 beta sheets.
How Alpha Crystallin Binds to Itself: Evidence from X-ray, NMR, SAXS
| | | | |
| --- | --- | --- | --- |
| | | | |
| Various crystal structures show several biological dimerization modes. | C-terminal tail binds to edge of beta-sheet. Binds in 180 degree flipped orientation too. Binding sequence is palindrome. | | Side-by-side beta sheet dimer. |
| | | | |
| --- | --- | --- | --- |
| | | | |
| Beta-sheet dimer observed with 3 different registrations in crystals and NMR. Some literature suggests all are present allowing different oligomers to form. | | Small-angle x-ray scattering in solution shows only one registration is present at physiological conditions (NMR registration). | Shifted human dimer with C-terminal tails for building 24-mer. |
Building the Model: Fitting and Optimization
| | | |
| --- | --- | --- |
| | | |
| Deduce map symmetry. | Fit dimer in EM map. Movie. | Symmetry copies of fit dimer. |
| | | | |
| --- | --- | --- | --- |
| | | | |
| Hexamer with 6 C-terminal tails. | Moved C-terminal tails to bind hexamer. | Made C-terminal tails connect 4 hexamers. Movie. | Fit of 24-mer model to map. |
Mechanism of Chaperone Activity: A Hypothesis
| | | |
| --- | --- | --- |
| | | |
| Molecular surface with orange hydrophobic regions. | | C-terminal strands cover hydrophobic grooves. Literature says binding unfolded proteins requires oligomer to disassemble. |
Comparison to an Archaeal Chaperone
| | | |
| --- | --- | --- |
| | | |
| M jannaschii octahedral small heat shock protein 24-mer (1shs), 20% sequence identity to human alpha-crystallin. | Same C-terminal tail binding pattern as our alpha-crystallin model. | Alpha-crystallin is larger. Two inequivalent of 3-fold axes in alpha-crystallin are equivalent in M jannaschii sHSP. |
| | | |
| --- | --- | --- |
| | | |
| Aligned alpha-crystallin (red) and sHSP (blue) monomers. | Aligned alpha-crystallin dimer (red), sHSP dimer (blue). Movie. All 12 alpha-crystallin structures show edge-to-edge dimers. None show sHSP type strand swapping. | Comparison of alpha-crystallin EM map and simulated map from sHSP crystal structure. Movie. |
Chimera Capabilities used for this Example Analysis
We used 16 Chimera capabilities in this example, only about 1/5 of the available Chimera molecular assembly modeling tools.
Density map contour surface calculation and display.
Enclosed volume measurement. Used to compute contour level to enclose expected volume of 24-mer.
Crystal unit cell display.
Connected sequence and structure views.
Sequence based structure alignment.
Small-angle x-ray scattering profile calculation.
Fitting atomic models in density maps, global, symmetric.
Map symmetry calculation.
Symmetric replication of atomic molecules.
Moving molecular fragments (C-terminal tails) with energy minimization.
Solvent excluded surface calculation.
Hydrophobicity surface color mapping.
Density map simulated from atomic model (M jannaschii structure).
Morphing between atomic model conformations.
Fitting one density map into another.
Morphing between density maps.
Main message of the demonstration
Analyzing molecular assemblies proceeds by combining many Chimera capabilities.
These enable factoring in all available experimental data: electron microscopy, X-ray, NMR and SAXS.