BMI219 Software Tools
Conrad Huang
April 3, 2017
What Are We Doing?
Developing a web application as a team

Application

Web site providing access to the contents of a database

Target audience

Web visitors who may know nothing about our app

Team

Several members with different roles
What's a Web Application?
A web application is a web page displayed in a browser that provides interactive response to the user by exchanging information with a server and updating the display.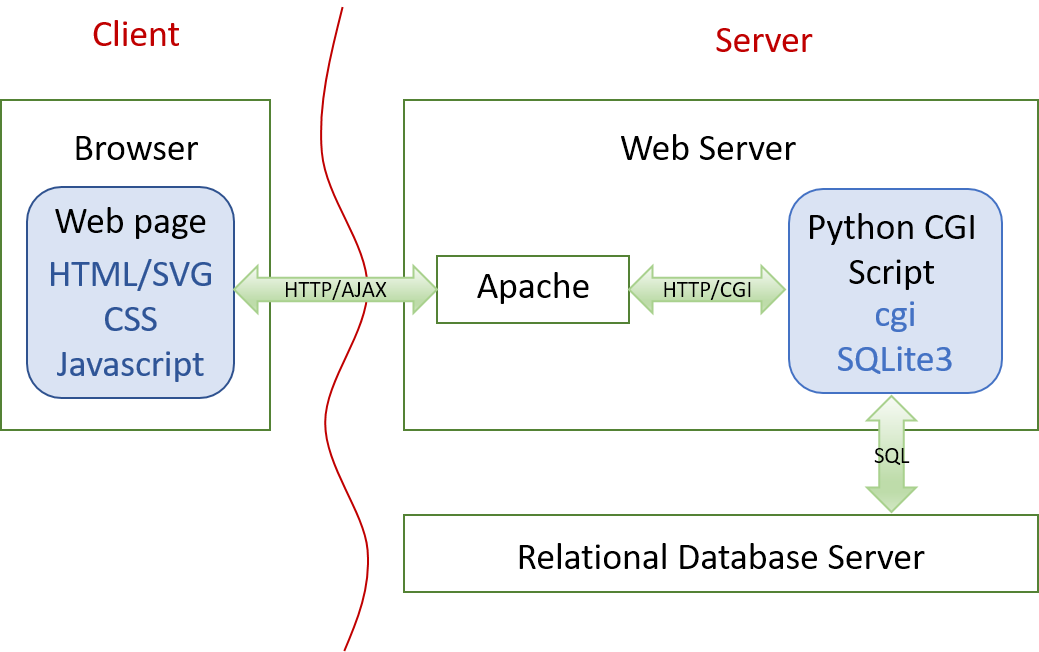 What More Do We Need To Do?
Supply content
Web pages

Static web pages
Dynamic web pages

"Dynamic" = changes in response to user actions

Server-side scripts supporting dynamic web pages

Pull entries from database
Generate content directly displayed in dynamic web pages
Generate raw data post-processed by dynamic web page

You will write all this
How Do We Create the Content?
Create web pages displayed by browser

Use HTML for static content
Use HTML and JavaScript for dynamic content

Write Python scripts to support dynamic content

Parse request using Common Gateway Interface (CGI)
Access database using SQL interface
Generate response in HTML or XML
What Will Lectures Cover?
Tuesday: Linux tools (for development on plato cluster)
Wednesday: Data modeling (for organizing data)
Thursday: Relational database (for storing and accessing data)
Monday: HTML (for writing static web pages)
Tuesday: Javascript (for writing dynamic web pages)
Thursday: CGI (for writing server-side scripts)
Friday: Regular expressions + lab time
Monday: Testing, Debugging and Optimization
Tueday: Security + lab time
Course Projects
Starting thinking about projects early
Choose a project with your teammates
Use lab time for project-related experiments

Data modeling and database this week
Web pages next Wednesday
CGI scripts next Friday
Project Development
Communications (with developers and users)

Formalize requirements and specifications
Write and review design documents (e.g., database schema)
Propose changes
Report and track problems
Announce releases for users
Get feedback from users

Code Development

Determine requirements and specification
Design
Code
Revise
Test
Publish
Repeat
Product
Production web site

A stable site for end users

Access to database contents
Project description
Feedback and issue tracking

Created from tested source
By-Products
Test sites

Multiple test sites (per feature, per developer)
Separate from production site

Source code version control

History for all source

Track when and why changes were made
Compare against previous (working) versions
Recover previous versions

Multiple branches (production, candidate, development)
Controlled update

Merge changes from multiple developers
Create production release from tested source
Tools Supporting Communications
Developer requirements

Design documents, proposed changes, issue tracking

End user requirements

Announcements, examples, release notes
Feedback (issues, suggestions)

Common tools

E-mail
Wiki
Issue tracking system
We use Trac for the latter two

Ease of creating and finding documents and reports
History of updates
Help answer questions

Why did we add this feature?
When was this bug report files?
When was it fixed and who did it?

Bonus: web access to version control repository
Tools Supporting Code Development
Tools for writing source code

Text editors (emacs, vi)
Interactive development environment (IDLE, Eclipse, CherryPy)

Version control system (Git and git flow)

Usual revision control operations
Support for multi-developer branching model

Web server (Apache)
Development and Maintenance Tools
Communications: trac
Development: git
Presentations from previous years