A Tribute to Seymour Cray
by Charles W. Breckenridge
SRC Computers, Inc.
Presented during the keynote session at Supercomputing '96, November 19, 1996
It is fitting that we pay tribute today to Seymour Cray, the individual who created the industry that led to the formation of this conference and the individual who has been for the last 40 years, the acknowledged leader of the high performance computer industry, and the individual whose name is synonymous with high performance computing.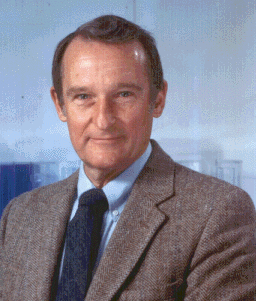 Seymour's career began in 1951 when he joined Electronic Research Associates, a company that had begun making early digital computers. Seymour's first job was working on the 1101, one of the very first general-purpose scientific systems built. Barely a year and a half after Seymour joined the company, he was regarded as an expert on digital computer technology and was made project engineer of the successful 1103 computer. During his six years with ERA he designed several other systems and in 1957 left ERA with four other individuals to form Control Data Corporation.
By 1960, at the age of 34, Seymour had established his reputation for genius in designing high performance computers. He had completed the design of the Control Data 1604, the first computer to be fully transistorized and had begun the design of the first system that earned the title of supercomputer, the CDC 6600 which was also the first major system to employ three-dimensional packaging and an instruction set that was later to be referred to as RISC.
The 6600 was followed by the much faster CDC 7600.
By 1970, Seymour had been directly responsible for the design and development of the systems that were to shape the high performance computer industry for years to come.
The last system that Seymour worked on at CDC was the 8600 -- work that demonstrated his clear vision of the challenges facing the high performance industry. He began work on the 8600 in 1968, and realized that improved clock speed alone would not allow him to reach his performance goals. He foresaw the need for much greater parallelism and designed the 8600 with four processors all sharing one memory.
When he started Cray Research in 1972, he shelved the 8600 design primarily because at that time he felt that the software issues were too great for the industry to handle and concluded that greater performance could be achieved in a uniprocessor by implementing vector capabilities. That led to the CRAY-1, the first Cray Research product. Seymour followed the CRAY-1 with the CRAY-2, the first computer to provide an order of magnitude increase in central memory size.
The CRAY-2 was followed by the CRAY-3 which, while not commercially successful, demonstrated reliable operation at a 500 MHz clock speed. His last system, the CRAY-4 which was nearing completion before Seymour had to abandon the project, was in 1994 operating at a clock rate of 1 GHz. A clock rate that no one else to date has achieved.
All of Seymour's systems were masterpieces of technology and esthetic design. To Seymour, elegance of physical design was as important as reaching the performance goals. In this area also he was unmatched by anyone.
Seymour regarded every system he worked on as a stepping stone to the next. And most of them were foundations for other systems built by others using his basic designs. It is ironic that most of the competition for Seymour's machines came from companies that he had been instrumental in making successful.
Seymour has greatly influenced and affected everyone who has been aware of him and his achievements. He was a born optimist and his optimism was infectious. His contributions to the world over his 45-year career are well documented in the contributions made by his systems and are well known to most of us and many others around the world.
No one in history in Seymour's field has accomplished the consistent successes that he recorded during his lifetime. He dedicated his entire career to the design and development of large-scale, high performance systems for science and engineering. He often said that he felt he was put on earth to do that job.
Seymour avoided publicity. He was given many awards and honors, and would have had many more had it not been for his nature to decline them in order to remain totally focused on his work. He led a streamlined life, designed to allow him to achieve his goals, goals that sometimes appeared to others to be utterly unachievable. He avoided distractions. Once when someone ordered a phone for him because they noticed that he did not have one in his office, when asked where he wanted it installed, he replied, with a twinkle in his eye, "on the tree outside my office."
Seymour never exhibited any anxiety about achieving his goals. He had an uncanny ability in his personal life and professional life to reduce all problems to very simple parameters, a way of separating the important from the unimportant and then focusing on the important. He always kept his end goal in mind, but his attention was with the current challenge. He never failed to impress people with his ability to move projects forward.
Seymour was very open, always willing to discuss his challenges and proposed solutions. He was not concerned about competition, but was always mindful of what his contemporaries were achieving. Seymour did not have any secrets.
Seymour liked to work with fundamental and simple tools. Generally only a piece of paper and a pencil. But he admitted that some of his work required more sophisticated tools. Once when told that Apple Computer bought a CRAY to simulate their next Apple computer design, Seymour remarked, "Funny, I am using an Apple to simulate the CRAY-3." His selection of people for his projects also reflected fundamentals. Once asked why he often hires new graduates to help him with early R&D work, he replied, "Because they don't know that what I'm asking them to do is impossible, so they try."
Off the job, Seymour found many ways to distract himself from his professional challenges. He enjoyed skiing, sailing, wind surfing, tennis, hiking and other sports. Some of his distractions were unique and formed the basis of many stories, most of them true but perhaps distorted with time. He used these distractions to clear his mind for his work challenges. One favorite pastime he had was digging tunnels for the sheer joy of digging tunnels.
Seymour loved challenges, and digging tunnels was just another challenge for him. Even as a child, Seymour was a problem solver. His sister tells the story about when Seymour was a young boy, he rigged a Morse Code connection between his bedroom and his sister's so that they could communicate after lights out. His father became aware of the late night clicking and told Seymour to shut down the system because it was bothering the rest of the household. Seymour's solution was to convert the clickers to lights and to continue to communicate with his sister.
Seymour never wanted to offend anyone, and sometimes his answers to questions were cryptic or absent. To illustrate that, he told the story years ago about when a group of Russians interested in supercomputers visited his Control Data, Chippewa Falls laboratory. They couldn't believe that supercomputers were being developed in that small laboratory in the woods and were so impressed with Seymour that during their visit they invited Seymour to visit them in Russia. Not wanting to say no, he avoided answering the question by just smiling. Later, as they were leaving the laboratory and on their way to talk to Bill Norris, president of Control Data, they invited Seymour again, and again Seymour just smiled. When they met Bill Norris later in the day they asked Bill if he could explain Seymour's strange behavior. Bill just smiled...
Seymour was irrepressible, he never gave up. When he had to close the doors on Cray Computer Corporation in 1994, he immediately began to evaluate options available to build high performance systems out of commodity parts. He was impressed with the strides that the microprocessor manufacturers had made, and was convinced that within another iteration or two, the off-the-shelf microprocessor would provide performance competitive with custom processors. Convinced early this year that he knew he could provide very high performance at very low cost, he put into place his plans and started a new company, one which bears his initials, SRC Computers, Inc. The company will continue to follow the path laid out by Seymour and will deliver a product of Seymour's design.
The inscription is from Robert Frost's, "The Road Not Taken"
"I shall be telling this with a sigh
Somewhere ages and ages hence:
Two roads diverged in a wood, and I--
I took the one less traveled by,
And that has made all the difference."
We will always remember Seymour as having taken the road less traveled.
---
Copyright 1996 Charles W. Breckenridge.
Reprinted with permission.