---
Sliced conic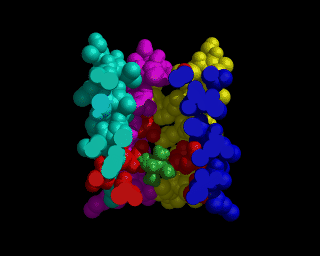 JPEG version (66KB), TIFF version (759KB)
This image is a model of the ion channel portion of the Acetylcholine Receptor. Leucines are shown in red. They have highly charged side chains that may gate the channel, helping to control the flow of ions.

Conic now automatically cuts into atoms that are sliced by the cut plane, showing a solid sphere inside the cut portion of the atom.
Credits
Model created by Alexander Kamb, Julie Newdoll and Robert M. Stroud. ©2004 The Regents, University of California; all rights reserved.